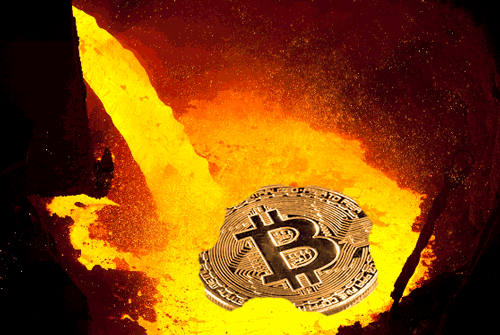 The Dark Web has been called a digital black market because that is exactly what is has become over the past few years. Websites and marketplaces on the Dark Web hide their owner's identity and location using the Tor encryption tool. Also, every black market needs a currency that is easy to move around and hard to trace. Cash is still king for person-to-person transactions but in a digital marketplace, a new form of currency must occupy our digital wallets.
One Coin To Rule Them All
Over the past few years, Bitcoin has become the de facto standard for digital currency and also the choice of cyber criminals. But Bitcoin's popularity is a double-edged sword that has created some challenges as of late. Bitcoin's soaring price has lead to wild fluctuations and investor uncertainty. This uncertainty can also greatly affect profits and the bottom line for any Bitcoin based businesses including ones of a criminal nature. I'm not trying to foster up sympathy for ransomware perpetrators, drug dealers or child pornographers but when the value of Bitcoin falls through the floor overnight, everyone left holding the bag of Bitcoins takes a hit. Therefore, it is imperative for Bitcoin transactions to go smoothly and swiftly.
Unfortunately, the speed of each Bitcoin transaction is governed by an artificial limit that only allows 1MB of data every 10 minutes for transactions and confirmations. There have been proposed fixes for these speed issues but so far, the problem is only getting worse.
Bitcoin Meltdown
Newer cryptocurrencies offer significantly faster and cheaper transaction fees, but for criminals, anonymity has always been the prime reason for Bitcoin use in the first place. Since so many hackers have turned to Bitcoin, intensified efforts from law enforcement have continually focused on methods to catch these criminals. Bitcoin utilizes a public record of transactions known as the blockchain. Within that blockchain, each user needs a public address of numbers and letters in order to receive payments.
All criminal activity using various digital currency is hard to track but there are some estimates that bitcoin use has steadily declined as the goto digital currency on the dark web. Overall, digital currency transaction volume for illegal activity is on the rise but not all cryptocurrency is the same.
Law enforcement and intelligence agencies can effectively track the movement of funds and isolate these public addresses to specific hackers. So when the criminals try to cash out at a traditional bank or a regulated entity, they can be caught. Therefore, many criminals are shifting away from bitcoin and onto other digital currencies that are still new and more challenging for law enforcement to track.
Other Side of the Coins
Cyber criminals are shifting to Monero, Ethereum, and Litecoin as they have some distinct advantages when used in the dark web.
"Litecoin has emerged as the second-most popular cryptocurrency for e-commerce transactions in the Internet's underbelly," Investopedia recently reported.
And Monero's technology, for example, offers greater privacy as it hides the name of the sender, the transaction amount and even the receiver's identity. In addition, all Monero currency is encrypted and look the same which is attractive to ransomware distributors. Meanwhile, Ethereum coin holders have been successfully targeted through credible phishing attacks into disclosing personal information.
All of the illicitly acquired Bitcoins will likely be held for the long haul by patient criminals. Those that cannot wait will likely get drawn into law enforcement dragnets and crypto stings. Other hackers patiently wait for their opportunity to cash in or even shift their Bitcoin holdings into more effective cryptocurrencies enabling further anonymity and transactions that will be difficult to trace.
Full Disclosure – I am an advisor to BlockSafe Technologies which has patented technology to effectively secure blockchains and cryptocurrencies.

Latest posts by Scott Schober
(see all)