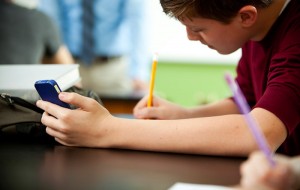 These days, cheating scandals in K-12 schools and universities are becoming the norm. It doesn't take a genius to see the relationship between cell phone adoption rates and the rise in cheating scandals. Put aside the ethical issues for the moment and focus on the cat and mouse game that is happening. Cell phones are a high tech means to game the system and there aren't enough teachers, proctors and administrators in the world to catch all the cheaters because the playing field hasn't been level…until now.
We sometimes forget that when we send our children off to school with a mobile phone, we are sending them off with a supercomputer in their pocket. Even the most basic phone contains all of the components (camera, text, email, bluetooth, google, etc.) to make cheating an easy reality. And the size and conceal ability make searching for (much less catching in the act) the smartphones an exercise in futility. Couple all these facts with limited school budgets and staff and you see why bringing a knife to a gunfight never ends in a draw.
PocketHound began as a simple, low-cost security tool to aid in law enforcement but has begun to be embraced by many schools and universities looking to curb cell phone use, alert teachers to nearby usage and ultimately catch cheaters in the act. It works simply. When anyone sends / receives a text, voice call or browses the web, PocketHound will blink and vibrate to alert the user of this nearby cellular activity. PocketHound has an effective range of about 75 feet making it ideal for most classrooms and testing areas without false positives from nearby rooms or campuses.
So long as these hi-tech problems persist, we will continue to see hi-tech solutions from the likes of Berkeley Varitronics Systems.

Latest posts by Scott Schober
(see all)