There's Only 1 Way To Secure Trump's Phone
Smartphone security is a fairly binary process these days. Whether you're sporting an iPhone, Android or even Blackberry or Windows smartphone, any security expert will tell you that none are 100% secure. This might not be an issue for most of us but what about the leader of the free world? What happens when President Trump continually uses an outdated Android phone to conduct international business and affairs? If the-powers-that-be cannot be reasoned with, can they simply be denied access past security checkpoints?
One of Trump's election winning arguments against Hillary Clinton was her misuse of classified emails stored on a personal server. Fair enough. But what about President Trump's misuse of his own smartphone. According to Android Central, Trump is still using his off-the-shelf, unsecured, Samsung Galaxy S3 (released May 29, 2012) daily. If this is true, it would put this phone several years out of step with the latest Android security updates including massive exploits like Stage fright affecting 950 million devices. Trump mostly tweets from this phone but he obviously uses it for more than just Twitter. If even a single personal message was intercepted by an enemy of the state, it could mean the difference between life and death for those close to him or those protecting him. So why hasn't his phone been seized and confiscated already?
The Ultimate Assistant
Smartphones have become so powerful that they have replaced many personal assistants. Smartphones also know more about us than many of our friends, family or even spouses. They know our whereabouts at all times and our daily patterns in addition to secrets we are only willing to share with select individuals. This is why on January 20th, 2009, President Obama handed over his favorite Blackberry smartphone and replaced it with a neutered, secure but featureless Secret Service-issued smartphone. No personal tweets for Obama.
Even the Trump's White House staffers and fellow Republicans have taken to a new communications app built on secrecy called Confide. Think of it as SnapChat but for adults. When a message is sent, it is erased immediately after it is read. That's great for politicians trying to avoid Russian hacking or spying, but does little to secure Trump's own phone.
Unhand That Smartphone
So how do you get the President of the United States to hand over his unsecured smartphone when there is little legal precedent for such a request? Recently, Democratic Senators Claire McCaskill and Tom Carper penned a letter questioning Trump's phone habits to Secretary of Defense Jim Mattis.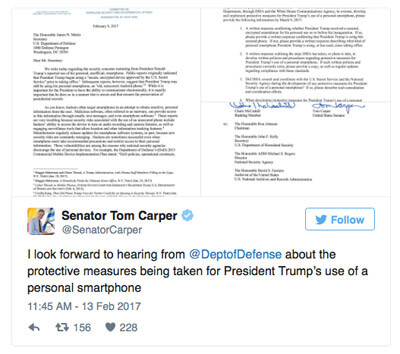 These Senators have opened an investigation and the debate but this is not a timely solution. The Verge has already posted a blog entitled Here's how easy it is to hack Donald Trump's phone as have others. Sensationalistic? Yes, but not untrue. Unless The President's smartphone can be truly locked down for security, it must be treated as contraband which brings us to the only solution.
All Phones Are Contraband
In the world of corrections and security, all electronic devices such as phones are treated as contraband. This includes not only prisoners and suspects but also guards and security personnel. Threats against witnesses, jury members, judges and prison guards and their families are just one of the reasons why strict policies against contraband must be enforced. When a sitting President of the U.S. carries an unsecure phone on their person, they should be subject to similar searches and policies. No one is demanding a strip search of Trump but sophisticated cell phone detection technology can ensure that no phones or electronic devices can enter certain areas deemed secure.
Perhaps a sensitive negotiation is being performed on-site in a secured area. The Secret Service assures the area is safe from bombs and snipers but what about "electronic spies". Due to the increasing amount of plastic used in modern smartphones, standard metal detection does not reliably identify most smartphones, but ferro-magnetic detection identifies smartphones whether they are ON or OFF. For instance, SentryHound is a cell phone detection portal that detects all ferrous material and even locates that contraband on (or inside) someone's body. Security tools like these are already in use by law enforcement around the world so it's no stretch for the Secret Service to utilize them in routine presidential meetings until this smartphone security issue has been addressed. There are many more configurations and technologies for detecting and locating unauthorized cell phones.
If President Donald J. Trump is truly the populist President of our time, his choice of smartphone follows suit. And with that comes populist problems including malware, weak encryption and lack of security updates that plague billions of older Android devices.
This blog was originally posted by Scott Schober on the Berkeley Varitronics Systems, Inc. website HERE.

Latest posts by Scott Schober
(see all)