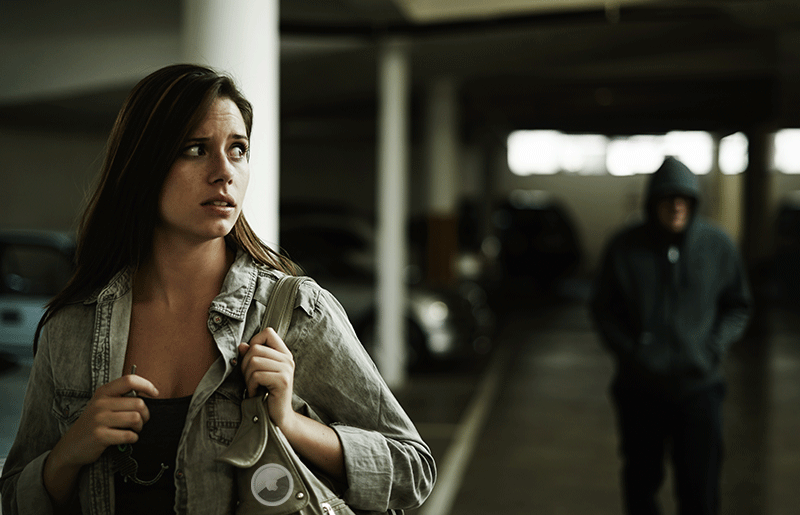 As an average sized male, I have come to realize that I take many things for granted. After speaking to my wife and daughter, it has become alarmingly clear that my personal safety is clearly one of those things. I don't worry about walking alone at night and I don't have to have my keys, flashlight and pepper spray handy as I approach my door. As a wireless tech expert, inventor and CEO of my own wireless security company, I am painfully aware of the problems associated with a new breed of low-cost, personal trackers being used to track more than just personal belongings. People are being increasingly stalked, robbed and assaulted thanks in part to technology we all use.
It's no secret that tech companies like Google and Facebook track our every move. It's just a part of consumerism in modern digital life so it's consensual – consumers give up a degree of personal privacy in exchange for services that connect us all. These services are mostly bankrolled by advertisers and retailers looking to find new customers. But what happens when individual users are able to do the tracking instead of advertisers?
Stalking goes way back so you would think that by now, people would have a clear understanding of the patterns, perpetrators and causes behind it all but that doesn't seem to be the case. National Stalking Awareness Month has been publicly observed since 2004, but some of the statistics they publish continue to be stark reminders that not only is this problem not going away, this problem is growing due to advances in wireless technology.
Around six to 7.5 million people are stalked per year in the United States.
Nearly one in six women and one in 17 men are victims of stalking at least once in their life.
50% of victims said they were stalked before the age of 25.
Stalkers harm victims with weapons in one out of five cases.
Only 25% of the victims were stalked by strangers.
Last year, my company was contacted by law enforcement to help them locate BLE trackers hidden inside packages also containing drugs or other illegal items. We developed a professional tool that gave authorities the ability to quickly scan vehicles, storage areas and people for hidden BLE trackers. They found many AirTags being used to track illegal packages, but told us that companies like Apple were hesitant to work with any authorities without lengthy warrants issued by a judge. Meanwhile, the press continues to hold Apple's feet to the fire for keeping stalking victims in the darkfor too long while they are being tracked. It was time to take action.
I met with my engineers and we came up with a product solution that addressed the problem but at 1/12th the price of our best-selling professional solution. After a few moments of worrying about cannibalizing our own profits, we decided to take the leap and go for it. But we weren't just breaking with our own business model by offering the cheapest product we've ever made to a market that we've never even served before. We also decided to crowdfund some of our R&D using Kickstarter. Sure we've designed many products based upon customer feedback over the years, but we've never taken their money until the finished product shipped. Kickstarter was an entirely new paradigm for an old school business like mine. I might run a wireless tech company but it's a 50 year  old one!
BlueSleuth-Lite was first conceived only a few months ago but we've been detecting bluetooth and BLE (Bluetooth Low Energy) devices now for years using our BlueSleuth and BlueSleuth-Pro products. The device had to be small enough to fit comfortably into a pocket but also operate in that pocket all day without losing power. In order to keep the price down, we used LCD displays, components and interface buttons we had used in previous products. However, we did design our first wireless charging system integrated directly into BlueSleuth-Lite to give it that consumer experience one might expect. Once we perfected the algorithms and features, BlueSleuth-Lite was ready for the world of Kickstarter.
As I write, our Kickstarter campaign is roughly half way through and we are also half way to our funding goal. With Kickstarter, it's all or nothing so it's too close to call right now. Regardless of the outcome, my mission remains the same; protect people's privacy and security through wireless solutions. Based upon estimates that wireless devices will grow to 3x the world population sometime this year, I'd say I have my work cut out for me.
Please check out the BlueSleuth-Lite Kickstarter here and watch the video for more details on how stalking is made easier through ubiquitous technology we all use.

Latest posts by Scott Schober
(see all)