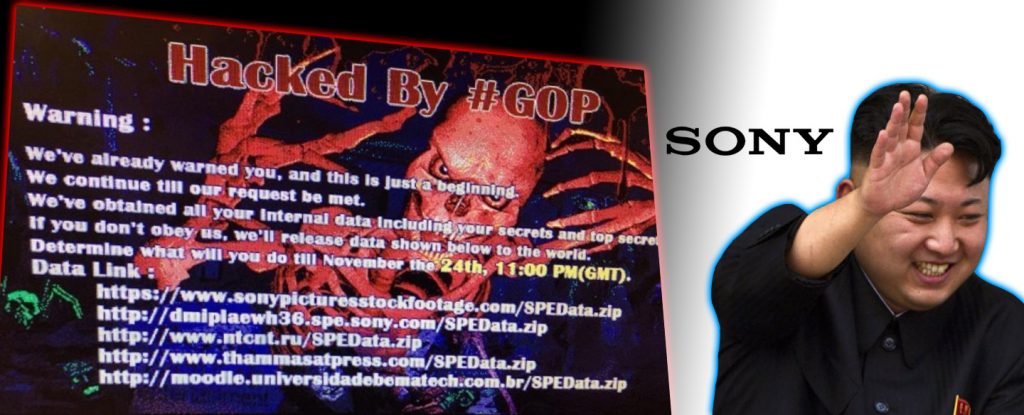 Last week Sony Pictures Entertainment experienced every network administrator and business owner's worst nightmare. On November 24th, anonymous sources inside Sony Pictures claimed the entire network was compromised. This part of the company is responsible for marketing and distribution of motion picture and TV programs.
One of the sources posted a picture of a crude CGI a skeleton to the online message board Reddit. The image contained message threatening to release company secrets if the hackers' demands were not met. The message also indicated the group Guardians of Peace (#GOP) was behind the attack, and included links to files containing classified financial information, employee social security numbers and private network keys. The hackers also gained control over several Twitter channels linked to various Sony Pictures movie properties such as The Amazing Spider-Man and Starship Troopers.
Possible Foreign Involvement
The hackers' demands and motivation were are not clear, but there could be a link to the North Korean government. On November 27th, a web site controlled by the government criticized an upcoming action comedy film by Sony Pictures Entertainment. In "The Interview" tabloid television reporters played by James Franco and Seth Rogen become involved in a CIA plot to assassinate North Korean leader Jim Kong Un.
Sony Pictures has not confirmed or denied the link, but the North Korean government is known to employ a large cyber espionage team. Hackers linked to the regime have been linked to attacks on non-government targets such as foreign banks and other private businesses.
Entire Network Paralyzed
The company released a statement calling it an "IT matter" but multiple news organizations reported their response was to completely shut down the network, leaving employees unable to get on the Internet or even check their email. Sony administrators advised employees not to turn on their computers and to disconnect mobile devices from the company WiFi network. Some employees were told to work from home. While the company has not released specific details, some sources indicate the hack was an inside job and began with a single server.
A History of Hacks
This isn't the first time the Japanese technology company has had a major network security breach. Sony Pictures was hacked in June of 2011, exposing the data of approximately 37,000 users. This attack was particularly embarrassing, partly because sensitive account information such as passwords was stored in a plain text file. Anyone with access to the database could open it and read the contents.
In April of the same year, Sony's video game division suffered a devastating attack that knocked the PlayStation Network offline for weeks and leaked the account information of hundreds of millions of users. In August of this year the PlayStation Network was forced offline again by a distributed denial of service attack.
While Sony isn't the first company to suffer a major data breach and it certainly won't be the last, the attack serves as a reminder of what can happen when companies let their guard down.
Learn more about hacked government and corporate interests from our downloadable WHITEPAPERS.

Latest posts by Scott Schober
(see all)