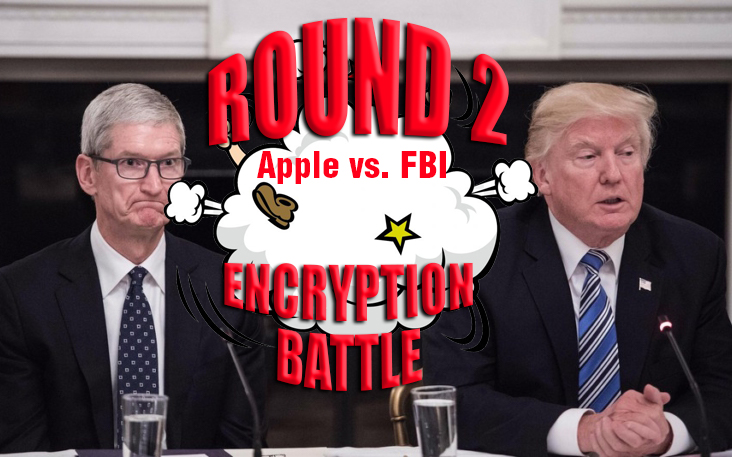 Another terrorist investigation, another request for encrypted data off a suspect's phone. This time the requests center around the dead Pensacola shooter's iPhone possibly containing information about the planning, events and co-conspirators but is that all that's really going on here? The FBI wants the iPhone unlocked and now so does Trump. Last time Apple was victorious against the FBI but will they cave this time?
This week, Attorney General William Barr, held a press conference claiming that Apple "has not given any substantive assistance" in unlocking two iPhone's connected with the Pensacola, FL shooter. Such statements could have easily remained behind the scenes but there is clearly more than just criminal investigations going on here. Much like Apple's public battle with the FBI in 2016, this new case is being presented in the court of public opinion in an effort to force Apple's hand into unlocking encryption for all iPhones.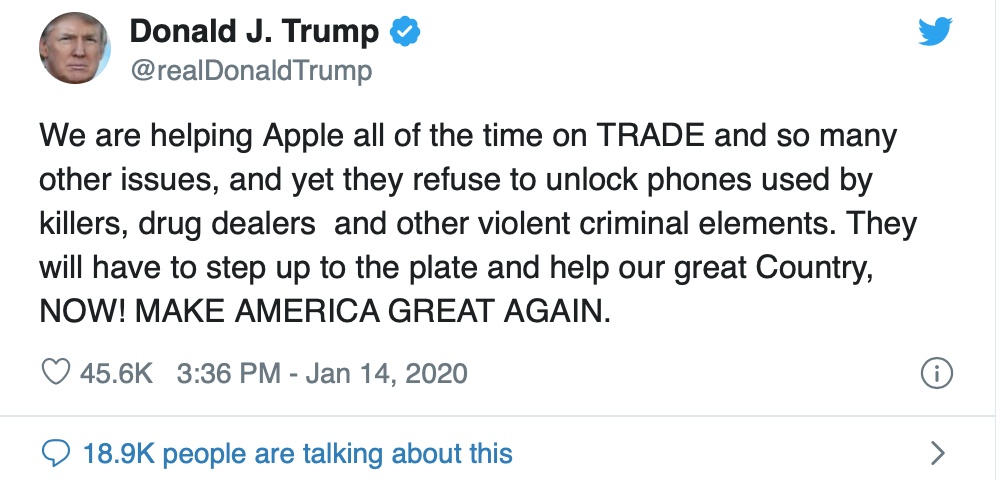 Adding confusion and hyperbole to the entire argument, President Trump recently called on Apple to unlock the iPhone in a tweet. And even though Barr's public scuffle preceded Trump's tweet by about a week, it's not clear who's following whose lead here. Not quite as unclear, however, is which one cares about gaining entry into this iPhone and which one cares about getting data from every iPhone. The FBI and DoJ have made public plays for backdoors into specific iPhones, but that doesn't change the nature of math.
Cryptologists and Apple warn that creating one backdoor opens up every device.  Apple builds iPhones to be end-to-end encrypted so that they do not (and cannot) have access to any data. This means that when Apple says they cannot unlock these phones, they are telling the truth. Of course Apple could re-design iPhone to include a backdoor but as we've seen, time and time again, the secretive and presumably secure agencies such as the NSA have already been hacked so why would anyone (including Apple themselves) think that Apple could secure all data from 1.4 billion devices?
Apple (and agencies that routinely spy on their own citizens and all suspects) does have access to some metadata and iCloud backups. Apple receives all kinds of legal requests for data connected to users of their products. Some are part of public record and others not so much. Most are for theft and criminal prosecution but many are for government agencies looking to make cases against suspects. Apple provides their own accounting of government requests for every country they sell devices to. They do comply with such requests the vast majority of the time and appear to have done the same in this case as well.
"We reject the characterization that Apple has not provided substantive assistance in the Pensacola investigation," Apple said in a statement to POLITICO. "Our responses to their many requests since the attack have been timely, thorough and are ongoing." Apple goes on to state that they have shared "a wide variety" of data including iCloud backups and have provided "additional technical assistance". So if both sides are actually working together, what is this public spat really about?
While no one has come forth with any numbers, many sources believe the U.S. government's ability to perform surveillance on both foreign and domestic citizens to be greatly enhanced compared to just a few decades ago due to things like metadata and wireless surveillance. Companies and hackers make claims that they can unlock every phone but public outcries from the FBI seem to suggest otherwise.
The Department of Justice asked for their own encryption backdoor into every iPhone back in 2016 and they seem to be gunning for the same outcome in this case too. But since 2016, the U.S. has elected a new President into office and The Supreme Court has been reshuffled so the DoJ is treading lightly. After all, if such a case went all the way to the Supreme Court and they sided with Apple, the FBI's hopes of backdoor entry into any iPhone of their choice would be dashed for the foreseeable future. AG Barr is taking the tried and true approach by appealing to the public's fear of terrorism. Trump seems to be appealing more to a sense of loyalty that Apple should show to him for tariff reform. This wouldn't be the first time the President applied quid pro quo to a national security matter and I'm not talking about anything related to his current impeachment proceedings. In the past, Trump said he would lift U.S. sanctions against Huawei if China would capitulate further in their trade talks with the U.S.
Both fail to understand that one key unlocks all phones and when all phones can be unlocked, citizens not only lose their privacy, they lose their security to terrorists, state sponsored hackers, random hackers and even their own government trying to protect them.
In their latest statement, Apple responded with a familiar, but nonetheless, penetrating statement. "We have always maintained there is no such thing as a backdoor just for the good guys," the spokesperson said. "Backdoors can also be exploited by those who threaten our national security and the data security of our customers. Today, law enforcement has access to more data than ever before in history, so Americans do not have to choose between weakening encryption and solving investigations. We feel strongly encryption is vital to protecting our country and our users' data."

Latest posts by Scott Schober
(see all)