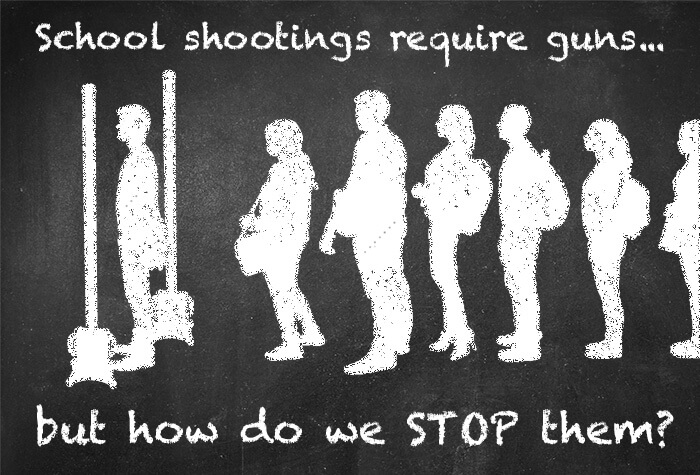 Violence and school shootings continue to plague the U.S.. We've seen such incidents on the rise in recent years so one would think that in 2021, more than a full year into the COVID pandemic, we would see a decline in school violence. After all, with most students shifting to some form of remote learning from home, many schools were closed and classes shuttered for fear of further spread of the virus. And yet according The Center for Homeland Defense and Security,
Keep in mind, the data in this report include shootings both within and nearby to schools and also can include individuals who may not even be employed at the school where the shootings occurred. It's a complex mix of numbers but the reporting criteria hasn't changed so yearly trends are essentially an 'apples to apples' comparison and this school year has yet to even reach the halfway mark. That is why the number of school shootings, while not large, are still very disturbing.
Parents, teachers and therapists are quick to point to depression and the dearth of personal relations among our kids brought on by COVID lockdowns as the primary reason for and sudden increase in school shootings. No doubt, there is some merit to those arguments but can they really explain away these disturbing numbers so easily? If we all agree that it's a truly complex problem then we can also agree that there is more than just one factor creating this problem. But before we can consider any solutions, we must look deeper into the problem.
According to Small Arms Analytics, a consulting firm based in Greenville, South Carolina, gun purchases in 2020 skyrocketed to nearly 23 million, a 65% increase over 2019 when that number was only 13.9 million guns. There are no national gun registries in the U.S. so this data was compiled using background checks and survey data from firearms publications and of course, this data doesn't include illegally purchased or stolen guns so the number is expected to be higher than reported. It's not hard to speculate on the reasons for such a surge in firearms purchases. Unemployment rates neared depression era numbers in 2020, crime was up in most major cities and the entire country continues to feel the pressure of this pandemic.
I would invite anyone to scroll down the list of all countries on this Wikipedia Gun ownership page for a disturbing look into America's obsession with firearms compared to every other single country. Nearly half of every single gun in the world is owned by a U.S. citizen for a total of 393 million guns, or 120.5 firearms for every 100 residents in the U.S. In an effort to avoid political mudslinging and biases, let's just say that there are a lot of guns in the U.S.
With so many firearms available for purchase and already kept in the homes, it's not surprising that firearms are the second-leading cause of death among American children. Gun safety education, training and hardware (such as gun safes and trigger locks) play an important role in keeping children safe at home but what happens once they get to school? A more than doubling of school shooting incidents in a single year requires more guns getting into schools and since there are no reports of guns being seized or stolen from armed teachers or school resource officers, these guns must be entering the school from the front or rear doors.
According to a 2019 student-reported Statista survey, 75.4% of schools have assigned security staff or police officers present but only 11.9% of schools contain metal detectors. So why do so few schools subscribe to technological solutions like metal detection? Critics of security hardware in schools attribute factors such as prohibitive cost, overall effectiveness and the psychological toll on students forced to endure daily screenings like criminals. Weapon detection makers can do very little to alleviate the fears and resentment of students being scanned but they can address the security and cost challenges to schools around the country.
Like conventional metal detectors, ferrous detectors detect guns and blade weapons in both handheld wands and portal configurations. But unlike metal detection, ferrous detection hones in on trace metals found in guns and knives without false triggering on the most common metals such as aluminum. This leads to faster foot traffic through portals and less invasive, handheld wand inspections which create long lines of students. Ferrous detection security portals such as SafeHound also provide up to 12 independent detection zones (6 per sensor pole) to aid security staff quickly in locating a hidden weapon. Most walkthrough metal detection systems used in schools are large, heavy and typically cost over $12,000 for industrial grade models. SafeHound sells for $8,950 and its two sensor poles weigh only 17 pounds each and can be setup anywhere in less than 30 seconds using internal battery power lasting all day long. This allows more flexibility for security staffs to cover different entrances throughout the day without purchasing multiple units that require expensive, semi-permanent installations.
Schools need to consider a multi-pronged security approach in order to truly combat violence in schools. This includes anti-bullying campaigns, qualified security personnel on campus and of course, non-invasive but effective, affordable weapons detection systems.

Latest posts by Scott Schober
(see all)