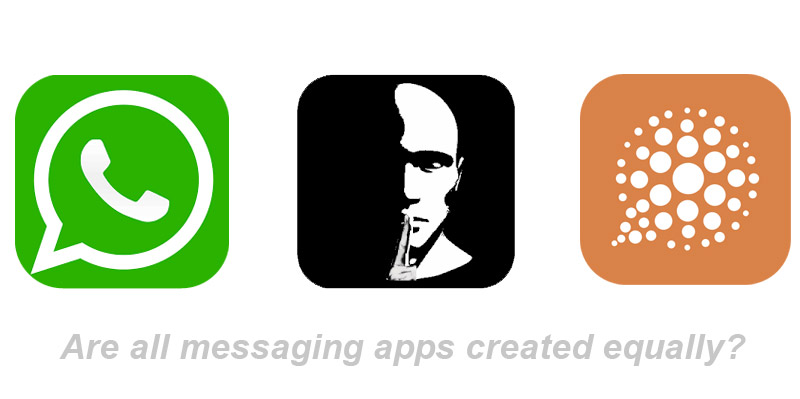 Have you have had that awkward moment when an acquaintance asks you for your mobile phone number? You just met them and they're already asking you for personal data. You don't just give out your cell phone number to veritable strangers unless they are trusted and have a good reason to ask for our number. So why do a billion WhatsApp users give out their mobile phone numbers so freely? They probably aren't thinking about the potential for hackers, stalkers and spammers to use their phone numbers against them. So are all messaging apps created equally? Not when it comes to security.
I've tested several messaging apps in the past but none are as thoroughly secure as Squealock. Most messaging apps require phone numbers, access to your contact list or are tethered to a giant social network. Squealock is end-to-end encrypted and requires none of this data. You only need to create a unique username that can be changed at anytime. Secure messaging apps like Dust (formerly Cyber Dust) and Signal are popular but also require a phone number to validate your account. Under Dust's FAQ, I found this,
"Validating your phone number on Cyber Dust is the best way to find friends and to help friends find you. We use a professional and secure validation service to prevent spam and misuse of the application. Validating your phone number also guarantees that other users are not using your personal phone number to find friends. Phone numbers are stored as mathematical representations also known as a hash."
Whatever their reasons are for requiring a phone number, they still use a third party service. That means all these hashed (with reverse hashing becoming increasingly easy) numbers are being stored and vulnerable to hacks.
Purchased by Facebook in 2014 for $19.3 billion, WhatsApp has become the most popular massaging app in the world. Sure they provide end-to-end encryption but they require a phone number and access to all of my contacts.
Turning to their FAQ, it reads, "We ask for your phone number because that is how WhatsApp routes chat messages between you and your contacts, similar to how the SMS system would.
WhatsApp users do not have access to your address book information, unless you share a contact using the "Share Contact" feature in a chat. We value your privacy and we have not, do not, and will not ever sell your personal information to anyone. If you would like to learn more, please take a look at our Privacy Policy that helps explain our information practices"
That's a lot of promises made by a company that is owned by Facebook, who incidentally ranked at the bottom of the top 100 brands (study released by Prophet) because of trust and security issues.
In addition to secure end-to-end encryption and no phone or contact list requirements, Squealock destroys all traces of messages 30 seconds after they are read. So no one, not even Squealock has access to any data or metadata. I trust Apple but even iMessage stores metadata for up to 30 days.
And Squealock goes one step further. Android devices allows apps and users to disable all screen captures but iOS devices do not allow disabling of this feature. So Squealock notifies you when your secure text, image or video has been screencapped for additional security.
Squealock is available for free for iOS and Android devices. I recommend it for business users sharing confidential data, journalists protecting their sources and any privacy seekers looking to avoid robocalls, stalkers and potential big data breaches.

Latest posts by Scott Schober
(see all)