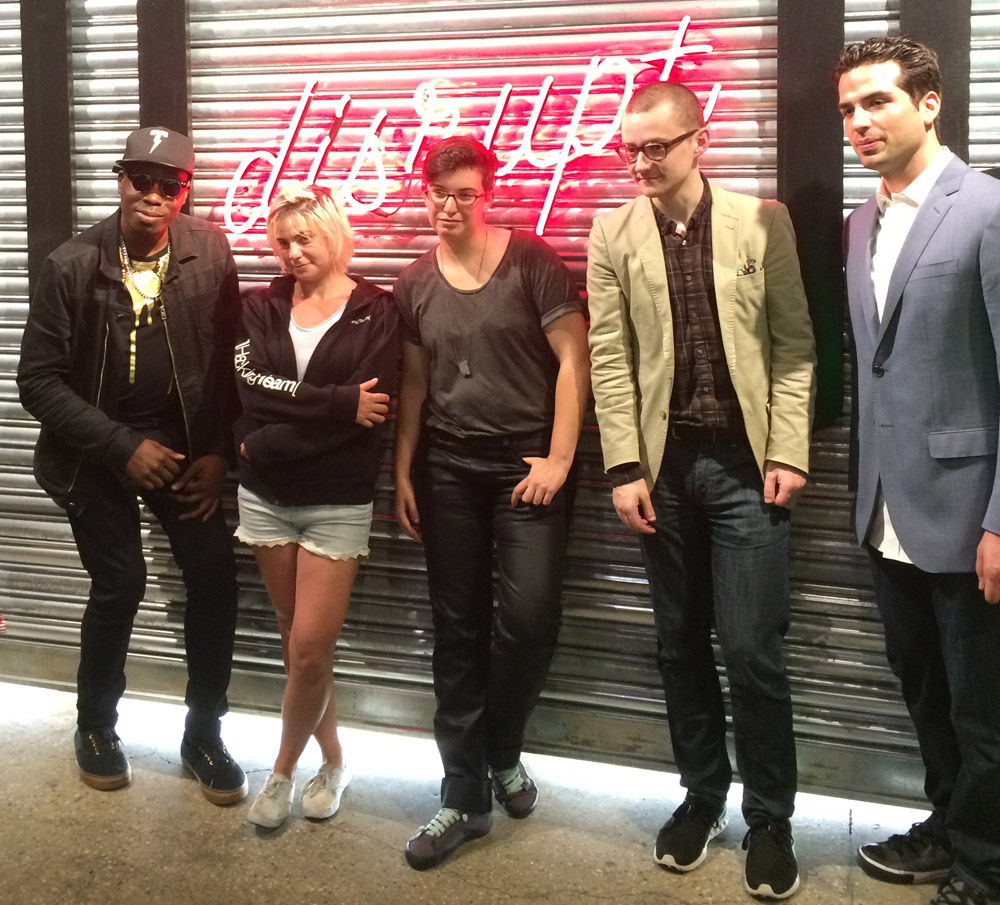 I recently attended an exclusive roundtable discussion with The Verge for a event hosted by Story, a retail concept store with ever changing themes located in midtown Manhattan.  Story re-invents itself about every two months and this time around it's all about hacking including an interactive exhibit hosted by USA Network's hit TV show Mr. Robot. The exhibit includes everything from vintage Atari arcade cabinets to a hackable ATM allowing visitors to walk way with $50 by gathering clues throughout the store. But this blog isn't about Mr. Robot (season 2 premieres July 13th) nor the cool Story retail space – it's about hackers and media influencers coming together to promote social change through disruption via hacking.
I always wear a suit and tie for any media events but I felt overdressed at this event – very overdressed. The audience and panel were filled with cybersecurity experts and enthusiasts half my age and dressed like extras straight out of Mr. Robot. I mention this, not as a casual aside or shallow remark, but more as an explanation for the audiences' and panels' motives. Hacking has always been (and probably will always be) a young person's game. I still have vivid memories of hacking and copying my favorite games on Apple 2 and Atari computers as a teen. I might've grown out of gaming somewhat but not out of the possibilities of hacking as a means of expression and change for the betterment of society. And that's where my interests intersected with this group.
When I first arrived, the host (looking at my formal attire) inquired if I was a VIP guest or media? "I guess both", I replied and was escorted toward the front in the reserved section. Fortunately for me, my background is nothing but tech, computers, robotics, media and of course cybersecurity. My company sells wireless threat detection tools to cyber threat intelligence agencies so I am daily researching various breaches, and even just launched my new book entitled 'Hacked Again' which chronicles my being a victim of repeated hacks. Note to self: next time I attend a hacktivist event I will wear my official Hacked Again T-shirt so I can better blend in with the crowd and not look like a parent of the attendees.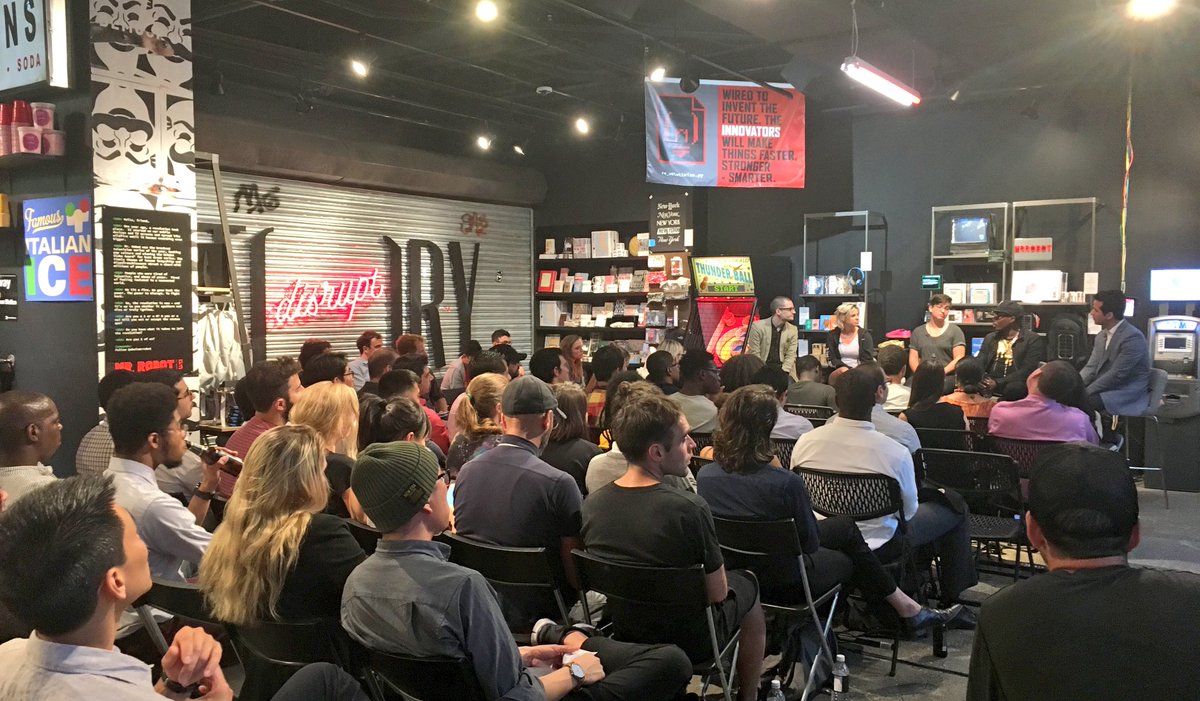 As the panel got underway, they began by discussing various methods that activists use to voice their frustrations at government and big businesses by disrupting technology.  Russell Brandom, a security expert/writer/report from The Verge moderated an unscripted lively discussion with an interesting line up of panelists. The panelists included; Kor Adana, Writer and Tech Consultant for Mr. Robot, Adrianne Jeffries – Managing Editor of Motherboard (a property of Vice media), Matthew Mitchell – Digital Security Consultant, Crypto Harlem, and Molly Sauter – Researcher at The Berkman Center, McGill University & author of The Coming Swarm. When the panel began asking for audience questions, everyone got a little shy so I threw out a few warm up questions. Based upon the questions that followed, it seemed that the audience was comprised of some Mr. Robot fans and some hacktivists.
The questions swung wildly between observations about the TV show and opinions on major breaches such as OPM (Office of Personnel Management), the Sony hack and Home Depot credit card compromise.  I appreciated the insights from activists/hacktivists perspective on what went down and some of the behind the scenes details they shared. The panel provided great info on the black market 'Silk Road' mess involving Ross Ulbricbht, founder of Dread Pirate Roberts, who ultimately received a sentence of life in prison with no possibility of parole. The ensuing conversation brought up the Stuxnet hack which I was able to research for my book. I was excited to get each panelists' take on Stuxnet and its position as the the first official cyberwar action initiated by the US & Israeli governments.
After the initial Q&A barrage, the themes seemed to converge onto one subject; the frustrations they all carry toward political leaders and the satisfaction they feel as activists when their voices are heard. I suppose this isn't too different from social movements of the 60s and 70s except that talks of peaceful protests and sit-ins have been replaced by discussions on end-to-end encryption and the best app for private communications. While Edward Snowden wasn't directly quoted, the sentiments of his whistleblowing philosophies were heavy in the air that night.
"The NSA set fire to the Internet's future. The people in this room are all the firefighters." — "Edward Snowden speaking at SXSW," March 2014
But discussions of WhatsApp (owned by Facebook) and other messaging apps like Signal soon gave way to attitudes and principles behind the use of these technologies. Within any activist community, products and practices become widely accepted through word of mouth so I did appreciate the general sentiment that education of privacy and encryption are important for all regardless of race, socioeconomic class, age, country of origin, etc. For instance, Matthew Mitchell spoke about his efforts to educate black communities on encryption through events like cryptoparties held in Harlem. The reasoning is that the NSA, DHS and other law enforcement agencies are continually monitoring citizens, especially those that participate in movements such as Black Lives Matter.
There were more than a few indirect jabs at myself and older generations; that were out of touch and 'just don't get it' when it comes to hacking, privacy, and encryption. I grew up hacking games, spent some time cracking passwords and using online bulletin boards with old school 110 baud acoustic modems. My hacking was never done for monetary gain nor to send a message to political or business leaders but rather to have fun. The term 'hacking' has gotten a bad rap in recent years; innocent fun and curiosity is not longer associated with the word. Now the headlines provide the common definition involving hard core theft of data, IP, credit cards in the dark web, and extorting innocent users with ransomware.  For all of it's good, the Internet will always have a dark side for illegal hackers to exploit. Us older folks might be trying to hold onto the reigns of the Internet but we also see the writing on the wall. Hacking can empower individuals to get attention, cause havoc, or disrupt people, governments, and political parties. But if activists cross the line and start to exploit vulnerabilities in computer networks just to be heard, there are some inherent dangers and consequences they will face down the road.
Overall, I enjoyed the event. It was a pleasant change from my usual suit and tie cybersecurity presentations. And there were more practitioners than theorists, even if many of them were only there because of a TV show or a tech website. In the end, it doesn't matter how or why they got there. It only matters that people see a need for change and are willing to risk safety and privacy for what they believe is right. After all, many hacktivists feel that undermining the American power structure continues to be the most patriotic thing an American can do to and for their country.

Latest posts by Scott Schober
(see all)