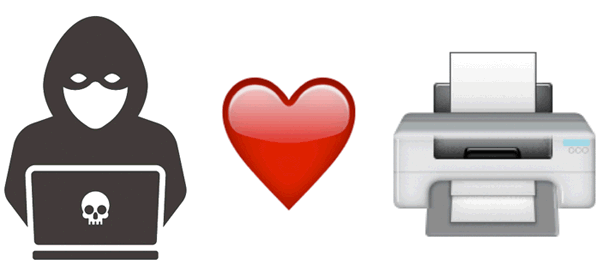 If you're anything like me, you've given up on the idea of a paperless office long ago but that's okay because I've grown accustomed to my printer's Swiss Army Knife ability to tackle most jobs. My compact printer scans, faxes and prints beautiful documents all from the corner of my desk. And many printer makers are now including wireless printing functionality from mobile devices for even more convenience. But all of this versatility and convenience bring potential security risks along with hackers that love my printer for just that reason.
Modern offices require networked printers which have become conduits for all kinds of connectivity. This brings unfortunate security oversights along for the ride but there are some simple steps we can take to keep our printers running safe and sound.
When configuring your printer to scan documents to a directory, be sure to set a time limit on how long sensitive data can be stored on your PC. Better yet, create a encrypted folder for secure data that can only be accessed and erased by the admin.
If your IT staff configures your printer with credentials to communicate with print and file services such as Windows Active Directory, make sure they have created a strong and unique password. Hackers have directories full of default passwords for every printer at their fingertips so sending malicious software to create backdoors to your printer is trivial for unsecured printers.
When your printer reaches end-of-life for any reason, make sure it is disposed of properly and that its internal storage media (RAM or hard drive) is properly erased or completely destroyed. Dumpster diving hackers can salvage tons of confidential data from most discarded computers, hard drives, and printers.
More printer tips and security information revealed in part 2 of this blog…
This post is brought to you by HP and IDG. The views and opinions expressed herein are those of the author(s) and do not necessarily represent the views and opinions of HP.

BVS, Inc. CEO | Author | Speaker | Cyber Security & Wireless Expert
at
Scott Schober LLC
Scott has presented extensively on cybersecurity and corporate espionage at conferences around the globe. He has recently overseen the development of several cell phone detection tools used to enforce a "no cell phone policy" in correctional, law enforcement, and secured government facilities. He is regularly interviewed for leading national publications and major network television stations including Fox, Bloomberg, Good Morning America, CNN, CGTN, CNBC, MSNBC and many more. He is the author of 'Hacked Again', his latest book as well as a contributor for Huffington Post and guest blogs regularly for Tripwire's State of Security series. Scott also writes for Business Value Exchange, Fortune Magazine and IBM Big Data & Analytics Hub.

Latest posts by Scott Schober (see all)