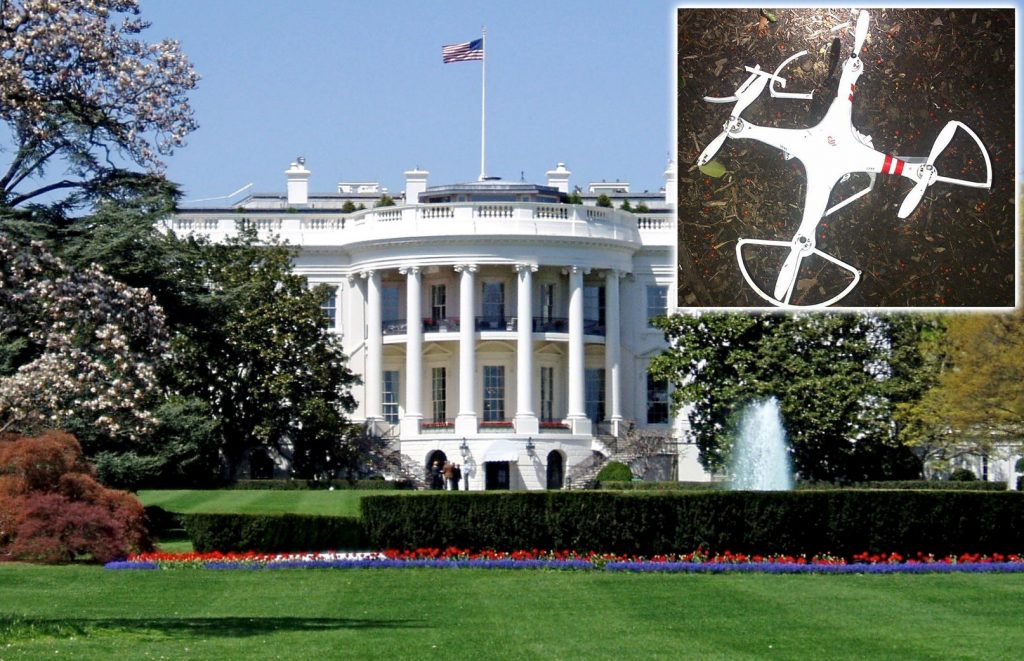 Current Federal Aviation Administration regulations require civilian drones to stay under 400 feet in altitude and at least five miles from airports and other restricted areas. Unfortunately, not all drone operators follow the regulations.
Drones at the White House
On Monday, January 26th at 3:02 AM a Secret Service officer on duty at the White House spotted a drone flying overhead without setting off alarms. The drone crashed on the edge of the property, triggering a security lockdown and search. The operator turned out to be an undisclosed inebriated off-duty government employee flying a personal drone. He turned himself in several hours later,claiming he lost control of the drone and did not mean to fly it into a restricted area. His actions led DJI (the manufacturer of that particular drone model) to initiate a 15 mile radius no-fly zone around the White House to be included as a mandatory firmware update for all DJI drones.
He is not the first drone operator caught near the White House. On August 19th a drone operator was arrested after he crashed it into a tree just outside the White House grounds. Another was detained on July 3rd after Secret Service agents caught him flying a drone a block away.
Identification Difficulties
One of the major issues with drones is lack of traceability. There are no registration requirements, so finding the operator of a crashed drone is nearly impossible. Even when the drone is in the air, Finding the operator is difficult. If the operator is concealed inside a building or vehicle, locating them without using the right tools is like looking for a needle in a haystack. Fortunately, wireless threat detection tools such as Berkeley's Yellowjacket-Tablet Wi-Fi Analyzer can catch a drone pilot red-handed by using realtime RSSI measurements and MAC address identification.
Drones Pose Air Safety Hazard
Even more alarming are reports of close encounters between civilian drones and low-flying aircraft. In November 2014, the FAA released list of 25 incidents that occurred starting June 1st. The incidents were reported by pilots and several involved passenger aircraft where the drone was spotted less than 200 feet away during takeoff or landing. The pilots reported seeing drones as high as 4,000 feet.
Drones are small and most weigh under 10 pounds, but the aircraft's speed and the delicate construction of propellers and jet engines make a drone strike very dangerous. Impacts with birds of similar size have caused airplane crashes, including the U.S. Airways flight that landed in the Hudson River in 2009. According to wildlife organization Bird Strike Committee USA, a 12 pound bird striking an aircraft traveling at 150 MPH generates the same force as a 1,000 pound weight dropped from 10 feet. A drone of similar size would have the same effect and could easily set off a chain of events resulting in a crash.
Drone Payload Concerns
Some civilian drones have payload capacities up to 30 pounds, easily enough to carry contraband and even explosives or chemical weapons. In 2013 German police recovered a drone and bomb-making materials from right-wing terrorist groups. Just last week Mexican police in Tijuana recovered a crashed drone attempting to fly a load of drugs into the U.S. Here in the United States, criminals have used drones to fly drugs and prohibited cell phones into prisons.
Drones have the potential to improve our lives, but they also pose risks to security and public safety that should be addressed. Shutting down drone operators who disobey the law and put others at risk should be a top priority.
Source Links:
http://www.livescience.com/3239-birds-jet-airplane.html
http://www.washingtonpost.com/world/national-security/near-collisions-between-drones-airliners-surge-new-faa-reports-show/2014/11/26/9a8c1716-758c-11e4-bd1b-03009bd3e984_story.html
http://www.washingtonpost.com/wp-srv/special/national/faa-drones/

Latest posts by Scott Schober
(see all)