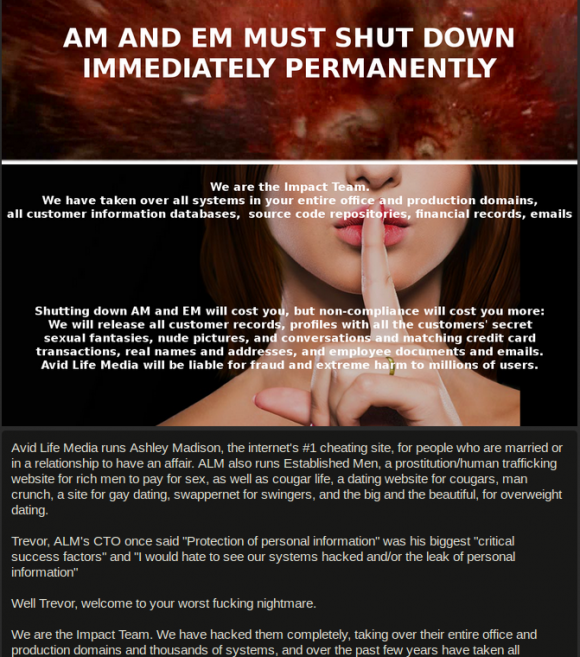 Most everyone has heard of Ashley Madison, an online dating website that helps married people cheat on their spouse. If you are happily married like myself, you wonder who in the world would actually use this website, let alone provide your private and credit card info to them. The CTO of ALM or Avid Life Media that runs Ashley Madison has been quoted in the past as saying "I would hate to see our systems hacked and/or the leak of personal information" but it looks like he's being quoted again today by the hackers who apparently breached Ashley Madison potentially exposing its 37 million users' data. This blows my mind as the majority of their customer base claim to be in the United States which has a population of around 320 million people. That would make roughly 10% of all americans customers of Ashley Madison.
Late Sunday night on July 19th, AshleyMadison.com was apparently hacked by a group calling themselves The Impact Team. These hackers claimed not just names and credit cards numbers, but also addresses, users fantasies, nude pictures, conversations and more. The hackers are not demanding any kind of money ransom so what do they want? In a manifesto posted claiming ALM lied about a $19 fee allowing customers to completely erase their profile information, The Impact Team has vowed to release all of that supposed erased customer data unless ALM shutters all operations on Ashley Madison and EM or Established Men.
Ashley Madison offers several levels of customers protection they could also pay a charge of $19 to fully delete every email, photo and association to the site. Every month there are anywhere from 8,000 to 18,000 people that have opted for this $19 full erasure protection which translates to about $1 million dollars of revenue a year for Ashley Madison. To their credit this is a unique feature as typical dating sites do not provide any way to delete your digital footprint.
One could easily imagine if The Impact Team posted the compromised data how a scandalous mess would start to unfold. I think it is fairly safe to say any politician or celebrity that has used Ashely Madison's service is probably sweating bullets right now over the potential media frenzy. This has the makings of another iCloud celebrity nude photo scandal.
Ashley Madison's slogan is "Life is short. Have an affair." Back in the days of ancient Israel adultery was punishable by death and it's looking more and more like AshleyMadison.com's days are numbered too. Perhaps instead of providing free credit monitoring services it would be more appropriate for AshleyMadison.com to provide free divorce certificates. I think for the time being they will have to postpone their announced IPO for $200 million until they can clean this cyberbreach mess up.
Subscribe to my weekly video 2 Minute Cyber Security Briefing Podcast on iTunes or Youtube. Visit www.CyberSecurityDictionary.com for more terms and definitions.

Latest posts by Scott Schober
(see all)